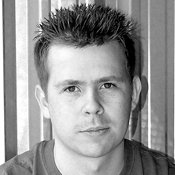 With a seemingly insatiable appetite for producing quality dance music and an ability to switch effortlessly between the scenes numerous genres thirty year old Ross Couch has become an highly respected producer with an enviable CV of over 100 releases on an impressive list of labels, numerous remixes and dozens of licenses to commercial mix CD's including some of the biggest franchises in dance music like Ministry Of Sound, Bargrooves and Café Del Mar.
Born in Glasgow, Scotland, a long recognised hotspot within the dance music community, it's little wonder that Ross became seduced by the rapidly evolving sound of house and techno in the early 90′s, and quickly became involved in producing his own material. His productions first materialised on vinyl via the Bellboy and Panther labels in 2001-2002 and he hit the ground running with his first appearance on 12" being a remix of Japanese Star DJ19. The often difficult to pigeonhole brand of dance-floor techno and melodic tech house he displayed on his early releases had him being compared in the press to numerous dance music luminaries such as Deep Dish, Dave Angel, Slam and Ron Trent to name but a few. It wasn't long before 'Backforce', the main track on his first release for Bellboy was chosen by legendary techno producer Thomas Schumacher as the opening track to his 'Perlen 3' Mix CD – a series highlighting the "Pearls of his record collection." Though this could be seen as an early indication that Ross was making his mark on the scene, the truth is he was only just getting started.
By 2003 Ross' sound was maturing and he began developing his signature style, a unique blend of styles influenced by the melodic sound of deep house whilst retaining the dance-floor energy of his earlier productions. UK magazine I-DJ noted at the time that, "Ross Couch straddles the line between deep and tech house with style" while music journalist John freer dispensed with sub-genres simply exclaiming, "Ross Couch makes astounding uncategorizable House tracks!" This new take on his sound helped secure releases on a series of highly regarded labels of the time including Siesta, Kinky Vinyl, Red Melon and Shaboom's sister label Blaxtrax, all gaining widespread DJ and radio support. The popularity of his releases was also highlighted by numerous appearances in leading charts such as Coolcuts and DJ Magazine's Hype Chart where the 'Dirty Dancing' EP on DTrax under his System Check alias reached the No.3 spot.
Around 2005 Ross began to develop close ties with the Bargrooves empire (now owned by Defected) releasing several 12″ releases and remixes across their series of labels over the next few years, as well as appearing on many of their successful mix CD's and showing his DJing credentials by personally mixing and engineering a number of them. During this period he also continued remixing for a number of artists including Nigerian Soul and RnB star Nayo's debut single 'African Girl', with his remix reaching No.11 in the UK Club Chart. All of this only helped to strengthen Ross' reputation with DJ Magazine calling him "one of the last years freshest talents" whilst M8 Magazine labelled him as "a truly gifted producer".
In 2007, after several years of releasing on other labels and with digital stores taking a hold of the market Ross took the next logical step and began releasing music through his own newly launched Body Rhythm label. It has proven to be a wise choice and in the years since he has produced a constant output of high quality house music, gaining a loyal fan base, regular support from some of the world best known DJ's and top 10 sales chart appearances on many of the leading Digital Download sites along with No.1's on the Deep House charts at Beatport and Juno Download.
2009 saw the release of his debut album, 'Night And Day' which was met with widespread critical acclaim and hailed as one of the best house albums of the year.
In the years since Ross has continued to focus on maintaining his Body Rhythm label's status as one of the finest underground house imprints on the planet, now spanning over 70 releases.  He's also spread his wings into the downtempo genre and found it to be a natural fit, bringing immediate success for a number of tracks including 'From Dusk Til Dawn' which spent almost five months on Beatport's Chill Out chart and enjoyed a six month stint inside Germany's Official Chillout Top 20 Chart.
Back on the house music front Ross has also continued to remain at the cutting edge, providing the house remix for dancehall star Stylo G's official UK Top 20 smash hit 'Soundbwoy', along with others for Joey Negro & The Sunburst Band, Barbara Tucker, Rasmus Faber and Astro Trax to name but a few, while his own track 'Somebody Like You' on Body Rhythm stayed on Traxsource's Soulful House sales  chart for months, peaking at No.4.  Just a few months later 'Still In Love' went one better, reaching No.3 – the latest in a string of Top 10 hits spanning multiple genres.
Another successful year in 2015 was capped off when Traxsource listed Ross at No.16 on the Top 100 Soulful House artists of the year, describing him as, "the epitome of consistency,"  declaring that, "We could have chosen pretty much anything Ross has put out this year as a stand out."
Currently more in-demand than ever and with a number of exciting projects in the works the future's never looked brighter.