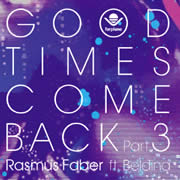 Just before Christmas my remix of Rasmus Faber Ft Beldina 'Good Times Come Back' came out on Farplane Records, but unfortunately due to an error it didn't appear on Traxsource.
The good news is that everything's now been sorted and the release is officially out on the store this week, and the good people at Traxsource have even included it in their 'Essential Soulful 20' selection for this week.
Below you'll find a preview of the vocal mix (dub mix is also included in the package), and you can also check out the DJ feedback for the release which also features a Fred Scott remix.
Buy Link:
—
Rasmus Faber Ft Beldina – Good Times Come Back – Ross Couch Rmx by RossCouch
DJ Feedback:
Kevin Phillips – Loving the Ross Couch remix!!
Greg/Hardsoul – Nice as always! 
Mario Chrisostomou – Lovely release. Catchy hook and a beautiful vocal. Especially feelin the Ross Couch vocal!
Antony Angell (Stereo Sushi) – some excellent remixes on this package
Aga Heller – Nice!
Michael Fossati – Ross Couch delivering an absolute beauty with his glorious remixes oozing with delectable melodies and infectious yet smooth rhythms
Andrea Fiorino – Ross Couch rocks, this one is right for my soul!
Hed Kandi – Wow! Two crackin remixes, love them. Ross Couch has a Naked Music vibe all over it. This is killer!
Richard Earnshaw – A fan of Ross' work….another decent remix to add!
tsutomu fukushima – Ross Couch Remix is so cooool!
Andy Ward – Like the sounds of Ross' mix very much
Grant Nelson – Oh yeah this is tasty!
Craig Stewart – Ross Couch jam is super HOT!, very cool deep groove goin' on – great work Craig Stewart Montana & Stewart Universe Media/DCsTrax
Dominique Reid (Providence Rockwell) – You guys constantly Bring Da Vybes ! Feeling The Ross Mixes even more !
Graham Sahara – Lovely mix from Ross. will play 
Davidson Ospina – Love everything Ross Couch produces! 🙂 Support
Alonso – I like the Ross Couch Remix.. Sublim mix! Alonso / Deeper People