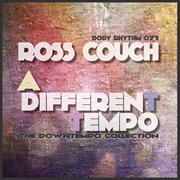 Today marks the release of 'A Different Tempo: The Downtempo Collection'.  This is a ten track compilation that not features six of my most popular downtempo tracks over the years like 'From Dusk Til Dawn' and 'Angel', but also four brand-new tracks: 'You Are Everything', 'Music Is My Life', 'A Different Tempo', and 'We Fall'.
In a break from the norm this release isn't undergoing a promo period, so you can grab it today from any of the following stores:
TRAXSOURCE
BEATPORT
JUNO DOWNLOAD
iTUNES
STOMPY
—
Tracklisting:
1. From Dusk Til Dawn
2. You Are Everything
3. Angel
4. Table For Two
5. Music Is My Life
6. The Truth
7. A Different Tempo
8. Ocean Drive
9. We Fall
10. Coming Home
—
And here's a Soundcloud preview of all ten tracks on the release.