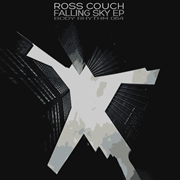 My latest release, the 'Falling Sky EP' landed on TRAXSOURCE today featuring two new house tracks, plus a downtempo one for good measure.
Things have been going well over the past few months, with 'Somebody Like You' and 'Still In Love' in particular doing very well for me, while others like 'Work It' and 'Confession' have played their part too, so hopefully this latest release can keep the momentum going.
I'm actually sitting on a bunch of good tracks that are in various stages of completion after a productive spell recently, so I'm excited to finish them up and send them out to earn their keep over the next few months!
Here's a preview of the tracks from the new EP and if you like the sound of them then be sure to head over to Traxsource to grab the full versions.
Update:  Now Available To Buy At…
Traxsource: http://www.traxsource.com/title/247671/falling-sky-ep
Beatport: http://www.beatport.com/release/falling-sky-ep/1163659
Juno Download: http://www.junodownload.com/products/ross-couch-falling-sky-ep/2301201-02/
Stompy: https://www.stompy.com/Label/Body%20Rhythm
iTunes: https://itunes.apple.com/gb/album/falling-sky-ep/id712375668
—