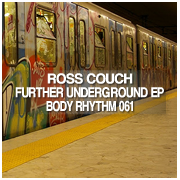 My 'Further underground EP' is out today on Traxsource promo featuring three brand new deep house tracks for your collection, just in time for the weekend!

Buy It Now From:
Track Previews:
Also out yesterday was two new remixes I've done for Japan's own DJ19 on his 19Box label.
Those with long memories may recall that I've remixed for DJ19 a long time ago – in fact it was my first ever vinyl remix for the Panther label in 2001.
Now I'm remixing an old track of his called 'Breakin' Of The Dawn'.  There's a house mix and a latin reprise and you can  get your hands on it on promo exclusively at BEATPORT.
And finally, don't forget that my 'Travelogue Vol.2' compilation also came out recently and is currently available in all the usual online stores.  It recently cracked the Traxsource album chart Top 10.