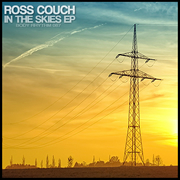 'In The Skies EP', my new release on Body Rhythm is out today on Traxsource promo (update: Now available at all stores!).
Needless to say it would be great to have you guys support for this new three-tracker, so if you like it, be sure to buy a copy.
Also in the next few weeks be on the lookout for a new single from my downtempo alias Leanbacker on the sub-label Beats Since Birth (September 3rd) which features a House Edit under my usual 'Ross Couch' name, plus a remix I've got of 'Falling' by The Lucius Project Ft Diana Lynn on House Trip Recordings (30th August).
Buy 'In The Skies EP' Now At:
TRAXSOURCE
BEATPORT
iTUNES
JUNO DOWNLOAD
AMAZON