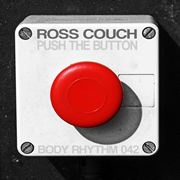 New release time at Body Rhythm HQ with my latest offering, the 'Push The Button EP' available for the next two weeks exclusively from BEATPORT.
There's two versions of the lead track on this one. The first mixes up the deep / tech soundscape with orchestral strings and piano, while the 'Sci-Fi Dub' goes for a space-age feel with synth pads and arpeggiated lead while still retaining many of the elements of the original version. The EP is rounded off with another deep house track, 'Addicted'.
Check out the previews and DJ reactions below.
—
Track Previews:
Ross Couch – Push The Button (Original Mix)
Ross Couch – Addicted
Ross Couch – Push The Button (Sci-Fi Dub)
DJ Reactions:
Giom: "I'm really liking the Addicted track. Will play."
Grant Nelson: Played 'Addicted' on his Housecall radio show.
Richard Earnshaw: "Push The Button the better track…..nice one."
Rasmus Faber: "Nice track! (Push The Button)"
Evren Ulusoy: Supporting 'Push The Button.'
Spin Science: "Both Buttons for me!"
Bamo (Spiritchaser): "Fresh and crisp production as always"
Krummstoff:"This is an outstanding pack, really hard to pick a fav, full support from me!"
Jevne: "Push the button is dope!"
Naill Redmond (RTE Pulse): Played Push The Button (Original Mix) on the 'Digital Groove' radio show.
Darren Holland: "Addicted is a wicked track my selector but the others are very hot too…will buss this out in all my gigs this summer.
—-
Buy It:
BEATPORT: http://www.beatport.com/release/push-the-button-ep/899270