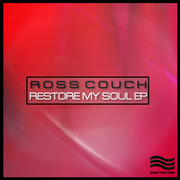 Today marks the release of my latest EP entitled 'Restore My Soul' on my Body Rhythm label.
This one sees me head back into downtempo territory after the recent success of tracks like 'Dusk Til Dawn' (four months in the Beatport Chillout Top 100 peaking at No.12 and spending three months in the Official German Chillout Chart) and 'Migration (Original Mix)' (in the Beatport Chillout Top 100 for 2 1/2 months and Topped Juno's Downtempo chart).
There's three tracks to choose from on this one and rest assured there's no ambient snoozers here!  Instead I'm mixing up elements of funk, jazz, breakbeat, soul and trip-hop that will hopefully tickle your fancy whether you can find a place for it in your next DJ set, in your car stereo or on your headphones.
Support for the new EP coming from forward thinkers like Shur-I-Kan, Jody Wisternoff, Richard Earnshaw and Vincent Kwok.
I'm having a lot of fun making these tracks and have built up a stockpile of them over the past few months so look out for more in the future and potentially an album too if all goes well!
Buy It Now At:
Beatport
Traxsource
Juno Download
Stompy
iTunes
Track Previews: