I've got a few releases out at the moment, so let's get right to it!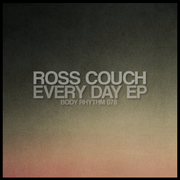 First up is my brand new 'Every Day EP' which is out today on my Body Rhythm Records label.
In a break from the norm there's no promo period – it's available in all the usual stores right away, so pick your favorite from the list below…
Buy It Now At:
TRAXSOURCE
BEATPORT
iTUNES
JUNO
STOMPY
Meanwhile, there's a few other releases out at the moment to keep an ear out for.
Out on promo today on TRAXSOURCE are my remixes for Juice Foresight Ft Elaine Dowling – 'The Only One' on Deeptown Music.
Also, this past Friday, 'Progressive Underground', the latest compilation from the world famous Armada Music label landed with my track 'Enlightenment' featuring as the opening track. Get your hands on this one at various stores including BEATPORT.
And finally, for those of you who've enjoyed my occasional detours into the downtempo / chill-out style over the years, be sure to check out my new Leanbacker project which I recently launched on my also newly minted Beats Since Birth label. You can get your hands on that one now at BEATPORT, TRAXSOURCE, iTUNES, JUNO and STOMPY.