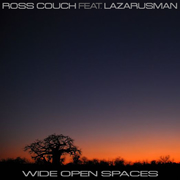 It's time for my final EP of 2011 on Body Rhythm (though not the final release…there's a compilation still to come!), and to end the year on a high we've got a collaboration with South African poet Lazarusman called 'Wide Open Spaces'.
This one is available to buy on promo now exclusively from Beatport.com with the other stores to follow at the turn of the year.
This one came about thanks to perfect timing.  Lazarus contacted me to suggest we do something together just as I was working on a rough version of a track I'd titled 'Wide Open Spaces'.  I sent it to him and he got to work on writing and performing the spoken word lyrics soon after.