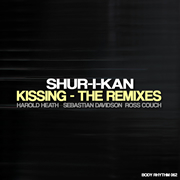 The latest release on Body Rhythm sees three brand new remixes of Shur-I-Kan's recent track 'Kissing' which first appeared on the label via the 'Studio Fever EP'.
Stepping up to the plate with new deep house reworkings are Harold Heath and Sebastian Davidson, while I stick closer to the downtempo feel of the original track with a jazzy, piano driven rework.
Update 26th August: After a two-week promo on Traxsource that saw Harold's mix climb to No.12 on the Deep House chart and my own version hitting No.1 on the Chillout chart this EP is now out on official release which means you can now buy it from:
—
DJ Reactions:
Shur-I-Kan: You've all done a great job on the remixes – sounds great! Especially love Ross Couch mix – brings a smile to the face! 🙂
Danny Howells: Beautiful .. Love the Harold Heath mix, stunning stuff!
Hernan Cattaneo: Quality!!!!
Nathan G: Harold Heath tastefully re-constructed the downtempo original! Well Done!
Ashley Beedle: Once again sheer quality from the Body Rhythm camp. Loving the Ross Couch and Harold Heath mixes. Big support.
Spiritchaser:  Charted Harold Heath mix at No.9.
Satoshi Fumi: Amazing pack! Really love all 🙂
Vincent Kwok: Nice one! Really loving the Ross Couch Remix.
Kirby: Really nice remixes! Great job, nice groove, nice vibe!
Niall Redmond (RTE Pulse): Awesome stuff. Opening up with the Ross Couch Remix on the show tonight.
Bria Project (Vibe Boutique): "This ep is great. My favorite is the Ross Couch remix – Great track."
Darren Holland: "Harold heath mix very slick."