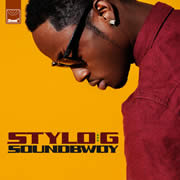 Stylo G's track 'Soundbwoy' on 3Beat Records is on course to be a big hit in the UK and I was fortunate enough to be given the chance to do a couple of remixes for it.
The release finally hit stores yesterday and at one stage the four track EP featuring the original along with remixes from Sigma, Di Genius and myself was briefly sitting pretty at No.2 on iTunes overall album chart in the UK!  Since then the original mix has been bounding up the singles chart and at the time of writing, barely 24hrs after release it's at No.24.
Over at iTunes you can currently purchase my 'Club Mix', while Beatport are carrying both that one and additionally my 'Radio Mix'.
https://itunes.apple.com/gb/album/soundbwoy-ep/id633531783
http://www.beatport.com/release/soundbwoy/1092970
Meanwhile I am also enjoying some chart success of a different kind at the moment with 'Somebody Like You' from my recent 'Sounds Underground EP' currently attempting to spend it's fourth week on Traxsource's Soulful House Top 10.  It's No.9 at the moment, but it's been as high as No.4 on that chart and peaked at No.13 overall on the site.
—
Stylo G – Soundbwoy (Ross Couch Radio Mix):
Stylo G – Soundbwoy (Ross Couch Club Mix):