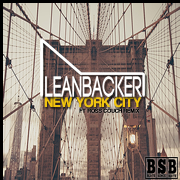 There's lots going on at the moment as you'll no doubt have gathered from that overly long headline above, so let's get right to it!
First up, today sees the launch of the next single from my Leanbacker alias called 'New York City' on the Beats Since Birth sub-label. As you'd expected the original mix is a downtempo cut, but I've also produced a house version under my Ross Couch name too for those who want something that'll work on the dancefloor and has been getting early airplay on Richard Earnshaw, Lars Behrenroth and Niall Redmond's shows.
Buy It Now At:
TRAXSOURCE
BEATPORT
iTUNES
JUNO
AMAZON
—
Meanwhile, Monday saw a Ross Couch remix of Lucius Project Ft Diana Lynn's 'Falling (Don't Stop)' come out on Traxsource promo via the House Trip Recordings label and is currently climbing it's way up the Soulful House sales chart.
Buy It Now At:
—
I should also quickly remind you all that my latest 'In The Skies EP' is also still out on Traxsource promo at the moment and will come out on full release at all the other usual stores on Monday.
—
Finally, I'm delighted to say that the good folks over at Traxsource included me at No.18 on their list of the 'Top 20 Soulful House Artists Of The Years So Far'.
It's great to be in there, especially as the chart is absolutely stacked with big name producers, including some real legends and pioneers who helped shape house music as we know it.
Here's what they had to say about me:
"Unsurprisingly, Scotland's unstoppable-disco-machine Ross Couch finds himself in our chart, with his 'All I Want' track a stand out for us so far in 2015. We could have chosen pretty much anything that he's put out this year, as Body Rhythm – essentially a home for some of Ross's more soulful productions – consistently delivers the goods and has picked up props from the likes of house heavyweights Grant Nelson and CJ Mackintosh."
And here's a link to the full article: http://news.traxsource.com/articles/2047/top-20-soulful-house-artists-of-2015-so-far