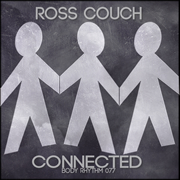 I'm a bit late posting this up as I've had a rough few days dealing with my hard drive failing and the long, boring and at times frustrating process of having to reinstall everything again on to a new one.
Thankfully I'm back up and running now and so I can let you all know that I've got a new single 'Connected' that's been up for sale on Traxsource promo since Friday.
Buy It Now At:
This is the first time ever as far as I can recall that I've put up just a single track in all my years of doing this as I've always just naturally fallen into a pattern of putting out three track EP's.  There's no particular reason why I've decided to do it now other than the fact I thought it'd be nice to experiment with a different format for a change.
Speaking of a doing something different, I've got a new downtempo project that I've going to be unleashing very soon, so stay tuned for more details about that.