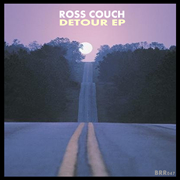 My latest release on Body Rhythm marks a bit of a departure from my normal style as the 'Detour EP' is my first ever all-downtempo release.
The idea for this came after I wrote a downtempo track called 'Angel' earlier in the year which came out as the third track on the 'Thinking About You' release. It ended up doing better than expected, hitting No.20 on the Chill-Out chart on Beatport and staying in the top 40 for two months, while also being the fourth best selling downtempo track on Juno DL over an eight week period and getting to No.10 on the Traxsource lounge sales chart.
So I decided to take a break from the norm and write a full release in this style. it came pretty naturally to me as my stuff is often fairly mellow anyway, so taking the tempo down a few notches actually made a lot of sense.
Since then I've been having a lot of fun writing in this genre, I've actually found it quite inspiring and have had one of my most prouductive spells in recent years. I think part of the reason is that there's less rules in the downtempo scene. You don't have to worry so much about it working on the dancefloor, you can go as musical as you like, and there's less fads where only one particular sound or style is selling well.
Still, it's a bit of a gamble putting this release out on Body Rhythm since people have come to expect my usual deep house style on it, but I'm keeping all my fingers and toes crossed that people will like it.
Preview:
Buy It Now:
BEATPORT
TRAXSOURCE
JUNO DOWNLOAD
STOMPY
DJ Reactions:
Jimpster: "Lovely stuff Ross! Really into the coming Home track. Going to work perfect in upcoming sunset sets. Nice one,"
Sebastian Davidson: "Very much what I like and play the whole summer Ross! In the boxxxx!!!"
Giom: "Great stuff man, a slight departure from your usual sound, I like it!"
Vincent Kwok: "nice one! good for my warm-up sets."
Richard Earnshaw: "Nice to hear a different vibe from you/the label, very listenable."
Darren Nugent: "Really nice vibes on this and a nice way to switch gears and show your musical flair. Top notch summer gear."
Dopeden: "Classic trip hop, downtempo style drums, solid simple melodies and a comfortable groove all make this ep a great choice for any lounge. Feel free to tap some hipsters in the ear with this package."
Da Funk: "coming home is aces!"
AMDJ's: "That's really great stuff! Hi five! "Coming Five" is our fav here. The tune is lovely!"
Niall Redmond: "Quality as always Ross.Like Coming Home alot in particular. Will drop it on the show i do for Jazzy M's Kane FM for sure."
The Messenger: "Great work as usual."
Bamo (Spiritchaser): "like this…. nice tempo!"