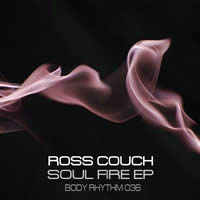 Been very busy in the studio lately and the new 'Soul Fire EP' on Body Rhythm Records that comes out today is one of the reasons why.
As usual there's three new deep house tracks for you to enjoy on this one, and if you want to get your hands on it you can buy it exclusively at BEATPORT for the next four weeks.
There's a lot more to come in the final months of 2011, including a number of new remixes, some interesting new original material that includes a couple of collaborations with singers, and a 'Best Of Body Rhythm 2011 package.'
Stay tuned to the website for more info on all of this in the coming weeks. In the mean time have a listen to the track previews below for the new 'Soul Fire EP'.
—
Ross Couch – So High:
Ross Couch – So High – BodyRhythm 036 by RossCouch
Ross Couch – Gettin' it Hot:
Ross Couch – Gettin It Hot – Body Rhythm 036 by RossCouch
Ross Couch – Rockin' In Rio: