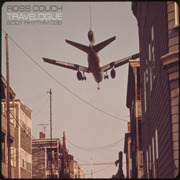 My final release of the year on Body Rhythm, 'Travelogue' is out now on Body Rhythm Records (BRR038).
I had originally planned to put out a standard 'best of 2011' compilation to end the year, but then I decided to switch things up a little and do something I've had in the back of my mind for a while which is to compile all the tracks I've written on the label that were written with a specific destination around the world in mind.
As I started to sift through the back catalogue I realized there was a whole bunch of tracks that could fit in to the general 'travel' theme – for example, 'Bon Voyage', 'Lost In Translation' and 'The Traveling Man' would all have worked.
In the end though there were just too many tracks and in an effort to whittle it down I decided to keep it strictly to tracks that referred to actual places.   I think it also helps to make the theme of the compilation more obvious and immediate to the casual listener who's just flicking through a pile of tracks on one of the online stores.
In the end that left me with eight tracks which span the globe from Detroit to Rio, Paris to Tokyo, the Bronx to Spain and even from The Shaolin Temple to Outer Space!
I'm happy to say that the release, which came out yesterday, is already featured on Beatport's Deep House page this week.  'Deep In Detroit', which is the lead track on it is also featured on the Traxsource 'Essential Deep 20' list for the week.
Further good news is that this one's not on promo so you can get it at normal prices and it's available at all the usual  stores, with iTunes and Amazon to follow in January.
See below for the store links and a full tracklisting.
—
Buy 'Ross Couch – Travelogue' Now From:
BEATPORT / TRAXSOURCE / JUNO DOWNLOAD / STOMPY
Ross Couch 'Travelogue' – Full Tracklisting:
1. Deep In Detroit
2. Path To Shaolin
3. Rockin' In Rio
4. First African American In Space
5. One Night In The Bronx
6. Postcard From Paris
7. Spanish Dancer
8. Bullet Train To Tokyo