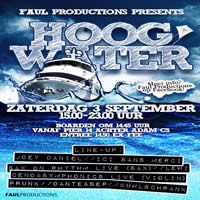 There's few things more enjoyable for me than to see footage of my music being played somewhere in the world.
So it was a pleasure to receive a heads up from Prunk Records main man Nilz Pronk yesterday that there was a video from this past weekend's 'Hoog Water II' event in Amsterdam, Holland featuring my track 'Enlightenment'. As you'll see below the event took place out on a boat, with the party going on from the afternoon right on into the night.
—
And as a bonus, here's another couple of videos I was sent a couple of months back from DJ / Producer Kubatko who played both 'Turn It Up' and 'Face The Pressure' from one of my recent EP's during his set at the 'Roxy' club in Prague, Czech Republic.
—
Ross Couch – Turn It Up:
Ross Couch – Face The Pressure:
(Plays briefly at the start of the clip)