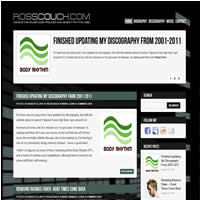 I'm happy to say that after much wailing and gnashing of teeth over the past few weeks trying to get this thing working, the new version of rosscouch.com finally goes online today.
I'll be the first to admit I'm no web designer so this has been a bit of a pain in the ass to set up and there may well be some  problems in the beginning.  If you do notice anything that's wrong or isn't working then please let me know and I'll do my best to fix it.
The good news is that this new version of the site is way easier to update than the old one I had years ago so there's no excuses for me not to post stuff up regularly (but don't hold me to that because I'll be coming up with some fresh excuses before you know it!).
I've been posting a few things as I've been building it over the past few weeks so there's already some content for you all to catch up on.
Stand by in the coming days for previews of my forthcoming single 'Take A Look' on Body Rhythm Records and various other updates.