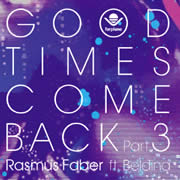 In a previous update I mentioned that I was working on a remix for Rasmus Faber's 'Good Times Come Back' release Ft Beldina on Farplane Records, and I'm happy to say that it's now available to buy.
The remix, plus an instrumental version along with other remixes from Fred Scott forms 'Part 3' of the release and will be in stores from December 19th, but in the mean time you can grab the promo exclusively from the Farplane Records store.
Click on the 'more info' link below to get more details and listen to the tracks.
—