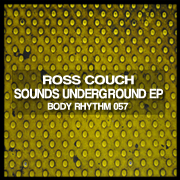 My latest release, the 'Sounds Underground EP' has been enjoying a successful promo period over at Traxsource over the past 10 days.
Last night one of the tracks. 'Somebody Like You' made it to No.5 on the Soulful House Chart, and is currently No.13 on the overall sales chart on the site.
Meanwhile, the full EP has also hit No.6 on the overall singles chart on Traxsource.
The other two tracks are performing well too with 'Confession' at No.26 on the Soulful chart (no.71 overall) and 'Sounds Underground' reaching No.38 on the Deep House chart.
I'd like to take this opportunity to thank everybody who's helped it get to this point by buying the tracks from the site, and also for the DJ's who've been supporting it.  I've been lucky enough to have some legitimate house legends like Joey Negro, Grant Nelson and Terry Hunter charting 'Somebody Like You' which has been a great help.
The release hits other stores from tomorrow (Monday, May 6th) and then we're just two weeks away from the next release which I'm delighted to say will be a downtempo offering from the one and only Shur-I-Kan.
Stay tuned!