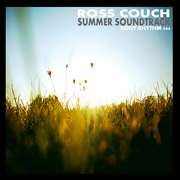 Today marks the release of my new 'Summer Soundtrack' release on Body Rhythm. The idea here was to put together a compilation of some of the best summer-influenced tracks that I've done on my Body Rhythm label over the years.
As it turned out there was quite a lot of options so it proved to be a bit of a challenge, but in the end I locked it down to 10 tracks.
The release covers the full span of the label, from early favorites like 2008's 'Feeling's Can't Explain', through to 'Sounds Like Summer' which was the best-selling track on my debut album 'Night & Day', and on to more recent hits like the 'Organic Mix' of 'Wide Open Spaces'.
—
Check out the full tracklisting below.
Ross Couch – Sounds Like Summer
Ross Couch – The Cruise
Ross Couch – Move if You're Feeling It
Ross Couch – Time Without You
Ross Couch Ft Lazarusman – Wide Open Spaces (Organic Mix)
Ross Couch – Love At First Sight ('Second Look' Remix)
Ross Couch – Dive In
Ross Couch – Do it Deeper
Ross Couch – Feelings Can't Explain
Ross Couch – In The Moment
—
Buy the 'Summer Soundtrack' release now at:
Beatport: http://www.beatport.com/release/summer-soundtrack/927141
Traxsource: http://www.traxsource.com/index.php?act=show&fc=tpage&cr=titles&cv=164598
Juno Download: http://www.junodownload.com/products/summer-soundtrack/1985860-02/
Stompy: https://www.stompy.com/Label/Body%20Rhythm
iTunes: http://itunes.apple.com/gb/artist/ross-couch/id476647773
—
Here's the YouTube preview for the release:
—