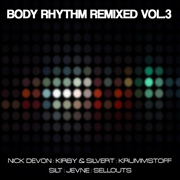 For our 40th release we offer you the third in our 'Body Rhythm Remixed' series in which we let other producers take a track of their choosing from the label's back catalogue to give a new lick of paint.
This time around we've chosen to go for a blend of youth and experience, mixing in some established producers with a number of up and coming production talents.
The release is available to buy on promo now at BEATPORT and will be available in all the other usual online stores in just two weeks time.
First up we have Nick Devon's take on the popular 'Turn It Up' track from last year. Hailing from Greece, Nick is only just starting to emerge as a producer with a handful of releases on label's like 3am Recordings and AcunaDeep and we feel he's going to be doing big things in the future.
Next up we've got an update of the best selling track of all time on the label – Kirby's remix of 'Playin' Jazz' which was a No.1 hit on Beatport's Deep House chart when it first came out back in 2008. Last year we spotted a YouTube video which featured a talented trumpet player from Moscow, Semyon Markevich aka SilverT riffing over the top of the track. We liked it so much we asked him to record it and Kirby has now cut it up and inserted it into his mix, giving it a fresh new feel for 2012.
Friend of the label Krummstoff has been hitting the Beatport charts hard lately which his releases on the likes of Dutchie Music and Brown Eyed Boyz in addition to his debut album last year on LowFlow. He opted to give 'Spanish Dancer' a rework, and a very good one it is too.
Germany's Silt has been on our radar since his excellent 'Rising' release on Plastic City last year and is another producer on our 'one's to watch' list. On this occasion he's done a very nice deep house interpretation of 'The Cruise'.
Jevne is another good friend who, along with being a DJ and producer, is also the mastermind behind the excellent OneThirty imprint ans he's produced a tasty slice of underground deepness with his mix of'Kama Sutra'.
Finally we bring to you new Australian talent in the shape of the Sellouts who burst onto the scene last year with tracks on labels like Miguel Mig's Salted Music and Sebastian Davidson's Nightbird Music. Opting to take the tempo down a few notches we get a chilled out, hypnotic take on 'Fall Into Love' here.
Don't forget, the release is out now at BEATPORT.